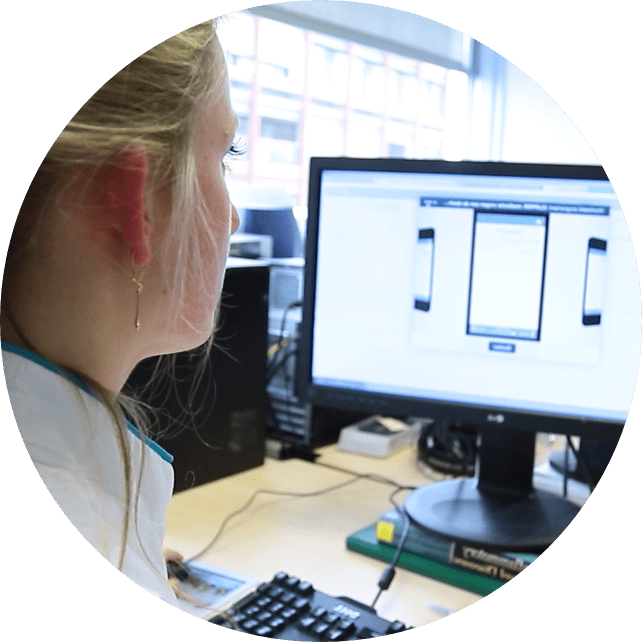 Design

digital medical forms
quickly and easily
Design, plan and share: with our Designer, healthcare professionals can effortlessly create digital forms, studies, and patient education materials – and securely distribute them among patients. Fast and simple, with standardised and validated medical forms, and convenient templates for custom questionnaires. Intuitive and easy to use, enabling you to swiftly deploy your forms and questionnaires to your patients. Open Health Hub makes it happen.
Save time | Get started right away with the content from our library or add content yourself.
Streamlined collaboration | Efficient collaboration among healthcare professionals or coworkers. Team members can easily share medical forms and questionnaires.
User-friendly design | Our platform can be used white-labeled, ensuring user-friendly and visually appealing content, optimising the overall user experience for patients or participants.
Flexibility | Varied question types enable comprehensive data collection for analysis Design medical forms your way. Our Designer offers a wide range of question types for extensive patientdata collection.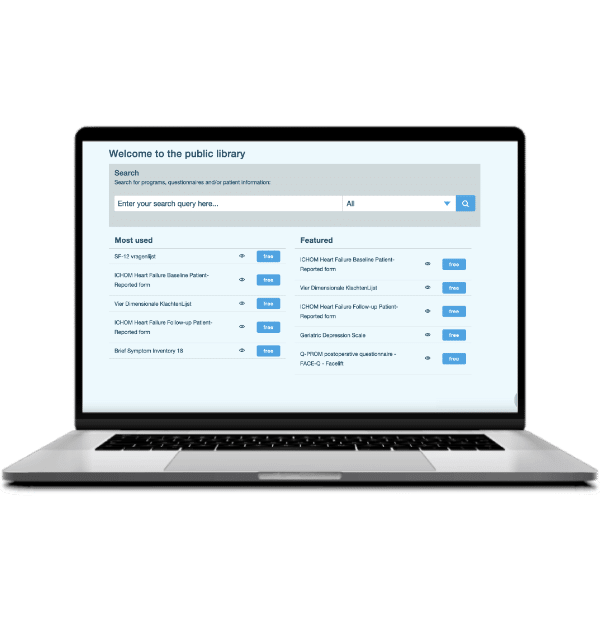 Get started immediately with 400+ validated medical forms
You get direct access to our extensive library of the most commonly used PROMs (Patient-Reported Outcome Measures), validated standard questions for various conditions used to collect clinical data and additional information. This allows you to start gathering valuable patient data right away.
Easily create custom content
Of course, you also have the freedom to create your own content. Whether it's a form, patient education material, or a comprehensive care module. Enhance your material with your own images or instructional videos, and apply different question types to meet your specific needs. For example, with a photo question, you can ask patients to take a picture of a wound or medication.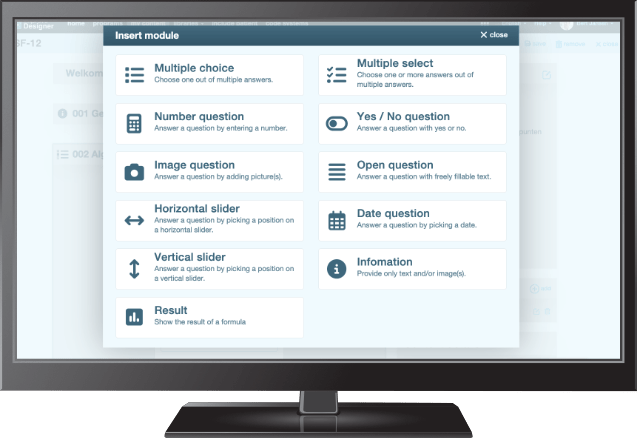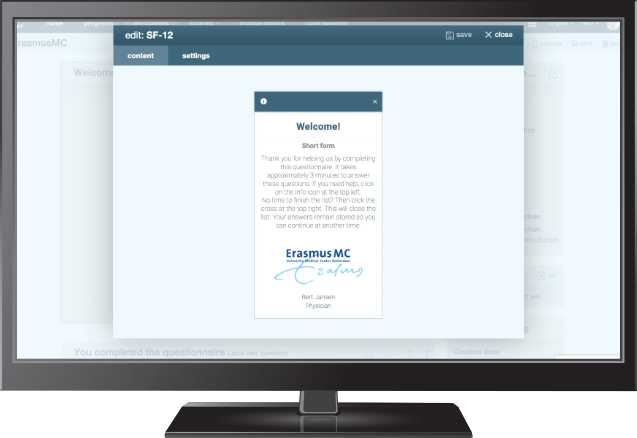 Build your own library
Create your own library for your organisation, department, or workgroup. Easily consult your colleagues' libraries. Edit existing questionnaires, forms, and patient education materials, or add new ones and share them with others. Managing the library is straightforward, allowing organisations to manage their resources themselves.
Features of our Design solution
Create digital medical forms quickly and easy with our Design solution
One platform does it all
Revolutionise patient data collection with our advanced platform for digital medical forms and home measurements. Create forms effortlessly, share them with patients in a user-friendly way, and view all collected data directly on your own screen.
Start using digital medical forms today
Would you like to implement digital medical forms and home measurements within your medical department or healthcare organization? Let us know which form you would like to start with, and we will show you how you can experience its impact within just a few weeks. Book a demo.